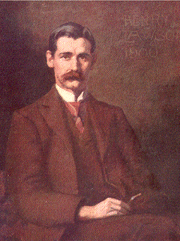 Lawson, also known as blue house, are one of the more succesful houses in recent times, and have a history of being a hard team to beat. 
House Name Origin
Edit
Henry Lawson (17 June 1867 – 2 September 1922)[1] was an Australian writer and poet. Along with his contemporary Banjo Paterson, Lawson is among the best-known Australian poets and fiction writers of the colonial period and is often called Australia's "greatest writer".[2] He was the son of the poet, publisher and feminist Louisa Lawson.
House History
Edit
Lawson have had some very succesful periods over hte years. They were the first house to win back to back house cups in 1970 & 71, and then followed this up with a three-peat in 1981-82-83. Lawson are a house who always seem to be up and about and are hard to beat. IN recent years, (2012) Lawson prospered in the team sport events, specifically House Soccer where they took out the Vargas Cup. They made the House Basketball finals and won the House Trivia Cup. 
Achievments
Edit
House Cups (16) 1967, 1970, 1971, 1975, 1981, 1982, 1983, 1985, 1987, 1991, 1993, 1995, 2004, 2006, 2009, 2010
House Cross Country -(2) 2004. 2013
House Swimming - (2) 2005, 2008
House Soccer (2) 2007, 2012
House Trivia (1) 2012
Schol Spirit (2)
               Athletics - 2012, 2013
House Basketball (1) 2013
House Captains
Edit
2005 - Oscar W & Lucy B
2006 -  Luca L&Lily L
2007 - Alex G & Pepa R
2008 – Imogen S & Declan H
2009 - Tom B & Bonnie H
2010 - Ethan M & Myra W
2011- Henry & Indi R
2012 – Riley H & Gulia
2013 – Aron & Dana
Team Song
Everywhere we go-o (everywhere we go-o)
Pe-ople ought to know-o (People ought to know)
Who we a-are (who we a-are)
And where we come from (and where we come from)
So we tell them  (so we tell them)
We Come from Lawson (we come from Lawson)
Mighty Mighty Lawson (mighty mighty Lawson)
1 - 2 (1 - 2)
3 - 4 (3 -4) 
Gooooooooooooooo Lawson
Quicklinks
Edit
Dennis , Gordon , Lawson , Paterson